Banking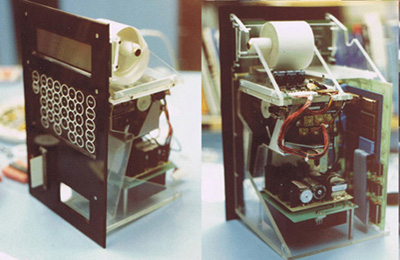 Prototype of an ATM (Auto Teller Machine) User Interface Module (front and back views).
This module integrates ergonomics with electronics, mechanics, and firmware for a very compact and full featured ATM.
It features a User input/output thru its LCD (with 4 rows of 20 characters each) and tactile keypad input, a magnetic card reader, and a ticket printer/dispenser.
The unit is complete with automatic self-test routines, multi-protocol communications, built-in power supply, paper roll handler, and dual communications interface (Ethernet, RS232A).
---
EC Lab-On-A-Chip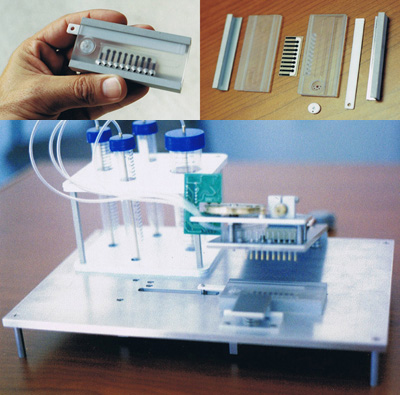 This complex device integrates multiple technologies to deliver a complete and self-sufficient Diagnostics Micro-Laboratory on a Chip. The core detection technology consists of a multi-element electro-chemical sensor, a three-way rotary micro-valve, a linear syringe, fluid input/output ports, and a multi-port electronic interface.
Complete device (upper-left picture)
Here are its key components (from left to right on upper-right picture): Lower-rail mount; Bottom substrate; Electro-chemical multi-element sensor; Top substrate; Rotary micro-valve; Syringe piston; and Upper-rail mount.
The state-of-the-art diagnostics device also simplifies the complex handling of reagents, biological probes, washing fluids, and waste, which are introduced automatically into it by an small (7"x12"x3") countertop automated instrument (open-frame prototype shown on bottom picture).
---
DNA-Chip and BioStamper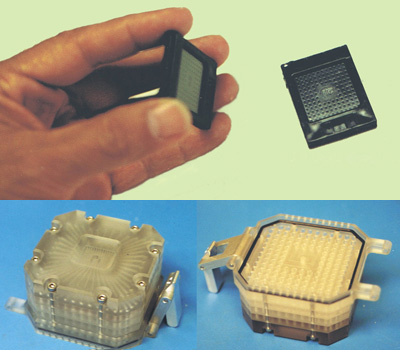 Here is an advanced disposable DNA-Chip design, capable of performing 128 simultaneous genetic tests in just 3 minutes. This breakthru technology enabled researchers to obtain huge amounts of acccurate DNA results for data-mining purposes. The DNA-Chip device (top picture) can be customized with an unlimited number of DNA-test probes to target real-life specifc biological tests. It also features automatic self-flow characteristics, created by a new smart-fluid-flow technology.
This project also included the design of the Bio-Stamper Head (bottom picture) to be used in large scale production of the DNA-Chip, consisting of a fully automated bio-stamping system capable of delivering 128-biological probes precisely and accurately to pre-determined test locations on the DNA-Chip. A scalable fully functional production system included electronics, robotics, fluid handling modules, and highly sophisticated software.
---
Dental X-Ray Controllers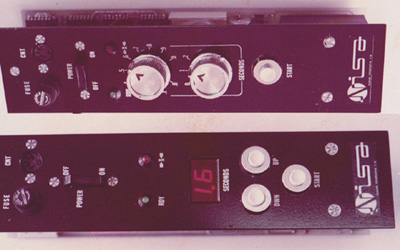 Two Dental X-Rays Controllers were designed for a company in Mexico D.F. At the request of the client, one of the designs was accomplished using pure analog electronics, while the other was implemented digitally using a microcontroller.
Part of the design process included extensive testing under extreme disruptive electrical conditions, such as power spikes, interference and outages, as the systems have to opeate over territories where electrical problems frequently occur. Testing results revealed that the digital (bottom picture) system was capable of having full control over the X-Rays than its analog counterpart (top picture).
---
Coagulation Point-of-Care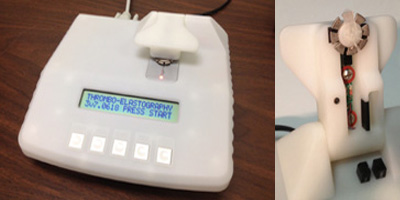 One major and common necessity in cases of an accident, pre-surgery and -specially- on the battleground is to be able to know with precission the coagulation factor of human blood. Equipment to asses such condition exist in the laboratory, but is not portable, so it is not convenient for field emergency situations.
To overcome this limitation, we invented this revolutionary technology, making a hand-held Point-of-Care device, which can also be used in the field and its operation is not adversely affected by spatial position or even motion.
---
Racetrack Totalizator Board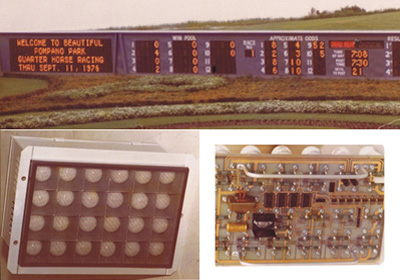 Full design and construction of an in-field "Tote Board" for a Horse Quarterback and Harness Racing Track in Pompano Beach, FL.
The board featured 276-alphanumeric digits. Each digit was formed by an array of 7x4-24W light bulbs, capable to display the full ASCII character set.
The entire board total consumption is 362,420 watts (309,120 W at maximum brightness and 53,300 W for all its controlling electronics). The total overall intensity is remotely controlled (fully dimmable).
A portion of the board is shown in the top picture. The bottom left picture shows a single digit (front view) and the right picture reveals its electronics.
---
Totalizator Terminals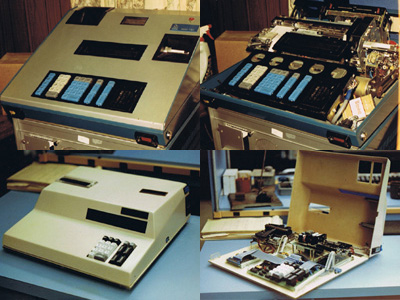 A new Racetrack Computerized Betting System was developed based around a tandem configuration of 3 HP-1000E series mainframe computers and extensive custom-written software and firmware.
To complete the system a family of custom equipment was developed and produced, including: two massive digital traffic controllers, 300 teller terminals (top pictures), 8 special cashier terminals (bottom pictures), 1 infield totalizator board (shown above), and 1 computer-room totalizator monitor board.
For a full turnkey operation, additional number of test/diagnostics equipment was also created, along with the neccessary testing protocols were also created/delivered to allow proper equipment maintenance.
---
Electronic Development Equipment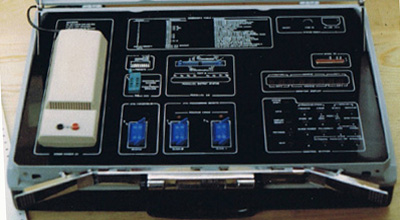 EPROM/Micro-Controller Portable Programming Station'. The system was specifically designed to cover an extensive number of UV-erasable E-PROM (Erasable-Programable Read Only Memory) chips, including a built-in UV (Ultra-Violet) eraser.
The system can received HEX files from a computer or directly from the operator via its keypad.
Supported functions: Edit, Read, Compare, Program or Blank E-PROM Verification.
To complete electronic design tasks, it also includes the ability to program Bipolar PROMs.
---
Consumer Electronics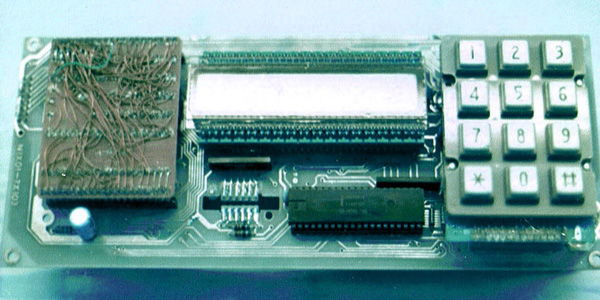 Prototype of the 'first in the World Collective Taximeter', developed for Nisamex (Mexico DF). This new concept extends the availability of taxis in a very demanding city and makes its usage more accessible to a large sector of the population that (otherwise) couldn't afford such means of transportation.
Capable to keep track of multiple passengers whose trips are initiated and finish at different locations, while sharing the same vehicle. The system computes accurate individual charges for each passenger.
---